QUTCEA – A Bumper year for ASEAN Startups!
This year, QUT Creative Enterprise Australia (CEA) partnered with the Australian Government under the 'QUTCEA – Australia now ASEAN 2019′ partnership. The partnership celebrates Australia's creative excellence, diversity and innovation, collaboration and people-to-people links, while promoting Australia as a key destination for tourism, study, research, innovation and investment. And what an incredible year of events it's been!
Through the partnership with Australia now ASEAN, CEA delivered a truly amazing program of events in Thailand and Malaysia from April to August.
In a recent article published in Entrepreneur Asia Pacific magazine, CEA's Chief Executive Officer, Mark Gustowski said 'The time is right to engage more deeply in this space, and "Australia can't Afford to Miss the Boat on Southeast Asia's Flourishing Start-up Scene".  While the entire Southeast Asian region presents tremendous opportunity for Australian engagement, CEA has found Thailand to be an excellent landing pad for early in-market exposure, leading to more demand for Australian innovation activities in other countries including Vietnam, Singapore, Malaysia and Cambodia.
CEA has worked tirelessly throughout the year to build and support the Australia-ASEAN bridge to promote international trade while educating Australian audiences on the economic importance of ASEAN.  CEA work collaboratively with universities, government, entrepreneurs and investors in Australia and abroad, connecting ecosystems both in terms of soft diplomacy and at a grassroots level by delivering activities on the ground.
Through their incredibly well received series of bootcamps, workshops, hackathons and accelerator events, CEA have exported valuable Australian knowledge and expertise to ASEAN, while also providing exposure to its primary stakeholder, the Queensland University of Technology, by promoting South East Queensland and Australia as a prime study destination and providing in-market outreach and activation.
Australia now looks forward to a continued relationship with QUTCEA to strengthen people-to-people links, while engaging and connecting youth audiences across Southeast Asia and increasing the innovative capability of future leaders across the region.
Eight dynamic activities were delivered by CEA under the Australia now ASEAN 2019 partnership:
· RISE Corporate Innovation Summit (CIS) – 28-29 March 2019 Bangkok, Thailand
· SwitchOn KL (International student hackathon) – 12 June 2019 Kuala Lumpur, Malaysia
· Techsauce Global Summit, Australia Startup Pavilion – 19-20 June 2019 Bangkok, Thailand
· Australian Startup Showcase BKK – Investor pitch and networking event showcasing 18   Australian startups – 19 June 2019 Bangkok, Thailand
· Asia Immersion – 17-21 June 2019 Bangkok, Thailand
· Startup Bumper I – 26-27 July 2019 Bangkok, Thailand
· Startup Thailand Conference – 23-27 July 2019 Bangkok, Thailand
· Startup Bumper II – 31 August – 1 September 2019 Bangkok, Thailand
CEA represented an Australian presence at three signature Thailand innovation ecosystem events in 2019. Each event included CEA delivering presentations and program delivery activities strengthening trade and investment links with Australia.
RISE Corporate Innovation Summit (CIS) – Bangkok, Thailand
More than 2000 corporate innovation professionals and stakeholders attended the RISE Corporate Innovation Summit (CIS) in March, Asia's First Experiential Conference. At CIS, CEA delivered a 90-minute workshop on "Pitch Training for Corporate Innovation", a hands-on workshop designed to support innovation within large organisations and the process required to drive entrepreneurial thinking and entrepreneurial mind-set in corporates. The Corporate Innovation Summit encouraged enterprises to learn and better understand the significance of innovation as the key driver of economic development. With great emphasis on the use of practical tools and methodology, the summit nurtured Southeast Asia's innovation ecosystem in the business environment by transforming mindsets through workshops that covered the following aspects of corporate innovation: Skillset and Mindset Transformation, Corporate Venture Capital, Corporate Entrepreneurship, M&A and Bey.
Techsauce Global Summit 2019 – Bangkok, Thailand
Australia's presence at Techsauce Global Summit 2019 in the Australia Startup Pavilion  helped represent Australia's innovation ecosystem.  18 Australian startups were featured along with 6 Keynote talks and expert panels . The hugely successful event saw over 15,000 delegates from more than 50 countries get fired up with hundreds of investors, speakers and startups. For the second consecutive year, CEA managed the Australia Startup Pavilion at the Techsauce Global Summit. The TSGS is one of Southeast Asia's leading tech, innovation and startup conferences and in 2019, CEA engaged a number of government organisations including DFAT, Austrade and Advance Queensland to occupy a 6m x 6m showcase and networking area to promote Australian innovation and collaboration with the region. A total of 18 selected Australian startups, covering a wide range of sectors, were present at the pavilion.
Startup Thailand 2019: Startup Nation – Bangkok, Thailand
Startup Thailand 2019: Startup Nation showcased the latest innovations, insights from global thought leaders, and garnered participant opportunities for synergy and financing. Startup Thailand is an important Southeast Asian technology conference and presented a prime opportunity to connect with networks in the region with more than 400 startups from 25 different countries and over 300 tech experts and speakers attending the event. CEA was pleased to have had the opportunity to bring over some Australian startups to the event, while also speaking about Australia's innovation ecosystem, and the role government has played in supporting entrepreneurship and program activities.
Look out for QUTCEA delivering more amazing events in Thailand throughout the coming year.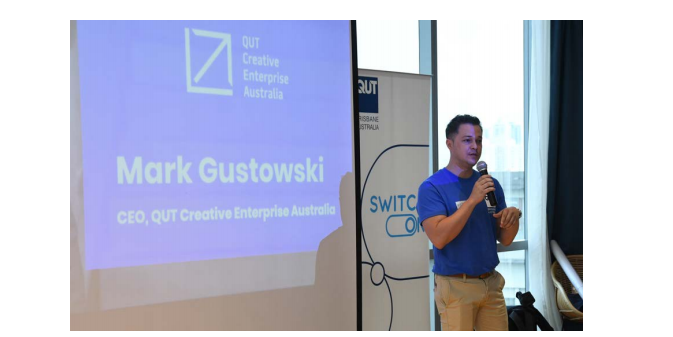 Mark Gustowski, Chief Executive Officer of CEA representing CEA
                  at the SwitchOn Bootcamp 2019 in Kuala Lumpur.